---
About
The Eastern Ontario Network (EON) is a practice-based research network of the pan-Canadian CPCSSN, located within the Queen's Department of Family Medicine (QDFM). It is under the auspices of the Centre for Studies in Primary Care (CSPC). EON's mission and vision are aligned with both those of the QDFM and CSPC. Currently, EON has over 150 Sentinel providers across southeastern Ontario that contribute electronic medical record data (from three different EMR products) to the CPCSSN holdings. EON's focus is to leverage its data holdings, local sentinels and pan-Canadian collaborators to continue growing its research portfolio and building research capacity as well as to support Ontario Health Teams (OHT) to coordinate care across southeastern Ontario.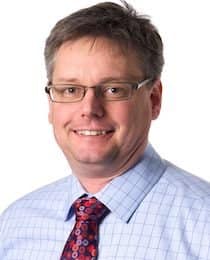 Leadership
Director, EON and Co-Chair of Pan-Canadian CPCSSN | Dr. David Barber, MD
Dr. Barber is an Associate Professor in the Department of Family Medicine at Queen's University. He is a physician, Chair of the Information Management Committee, Long Term Care Lead and the Director EON. His research interests are focused around Electronic Medical Records and strengthening the study of Canadian Primary Health Care.
---